AD5XI/M – 2021 to Present
After roving in the 2020 Maryland QSO Party I have been gradually making improvements to the mobile station, even though it's not been activated all that much since.
I've raised the antenna up the rear door to keep the coil above the roof line as much as possible. Added the 56″ whip, repositioned the head unit for the radio for safety, and most recently added an auto-tuner for the screwdriver. This means I can retune the antenna without having to divert my eyes to a separate controller. The model I picked up is the TurboTuner2, which was a random find on eBay. It works great and relies only on CAT and tuner port connection to the radio rather than sniffing RF.
I have also liberally applied mix #31 ferrite cores on all the cables I could, as well as re-routing the cable for the IC-2730A head unit, and have now significantly reduced the RFI I was experiencing on 20m. There is still a trace of RFI but it is now at a level that does not pose a risk to the vehicle while in motion, unlike before. Likely to have been induced RF to the DC cables going to the engine bay.
AD5XI/M – 2019 to 2021
At the moment the mobile shack comprises of an Icom IC-2730A for 2m/70cms and a Kenwood TS-480SAT for HF. There is a dual band whip for VHF/UHF on the bonnet and a Tarheel 40HP screwdriver antenna for HF mounted on the rear door.
This combination works very well, although I do have an RFI problem on 20m that causes loss of engine power. I suspect it's caused by RF affecting one of the oxygen sensors on the exhaust system. The readings on the OBD2 reader vary on key down above 25W on 14MHz but not other HF bands.
---
M0PCB/M – 2017 to 2018
As the Icom IC-7100 was starting to irritate me somewhat while operating mobile I scanned the market and convinced myself that the Kenwood TS-480SAT was the way to go. By this time I'd also acquired an Icom IC-2730 from a trip to the US.
The Kenwood TS-480SAT with a 500Hz CW filter installed was definitely the right choice and it's a lot easier to operate while driving. Also it's a lot easier to mount the head unit somewhere sensible. The body of the radio was in the boot under the false floor.
By now I'd changed antennas to something much more low profile and easier to mount than the G-Whip. The Diamond HF-40FX and HF-20FX base loaded whips. They worked surprisingly well for their compact size and never looked too garish when fitted to the car alongside the VHF/UHF antenna.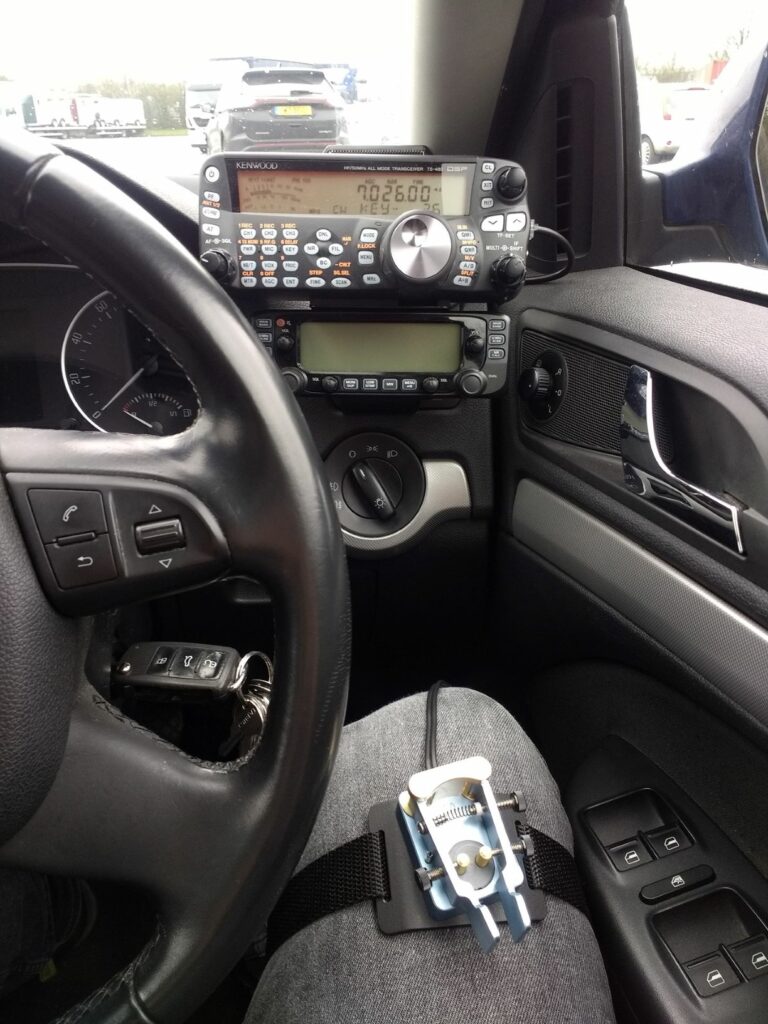 ---
M0PCB/M – 2015 to 2016
When I upgraded my car in 2015 I started with a clean canvas for mobile operating. By this time I'd not really used 2m/70m or even 4m mobile very much so I just retained HF capability with the G-Whip multi-band antenna and my Icom IC-7100.
As you can see the IC-7100 is a difficult beast to attach anywhere, but attached underneath the head unit is my Palm Mini Paddle.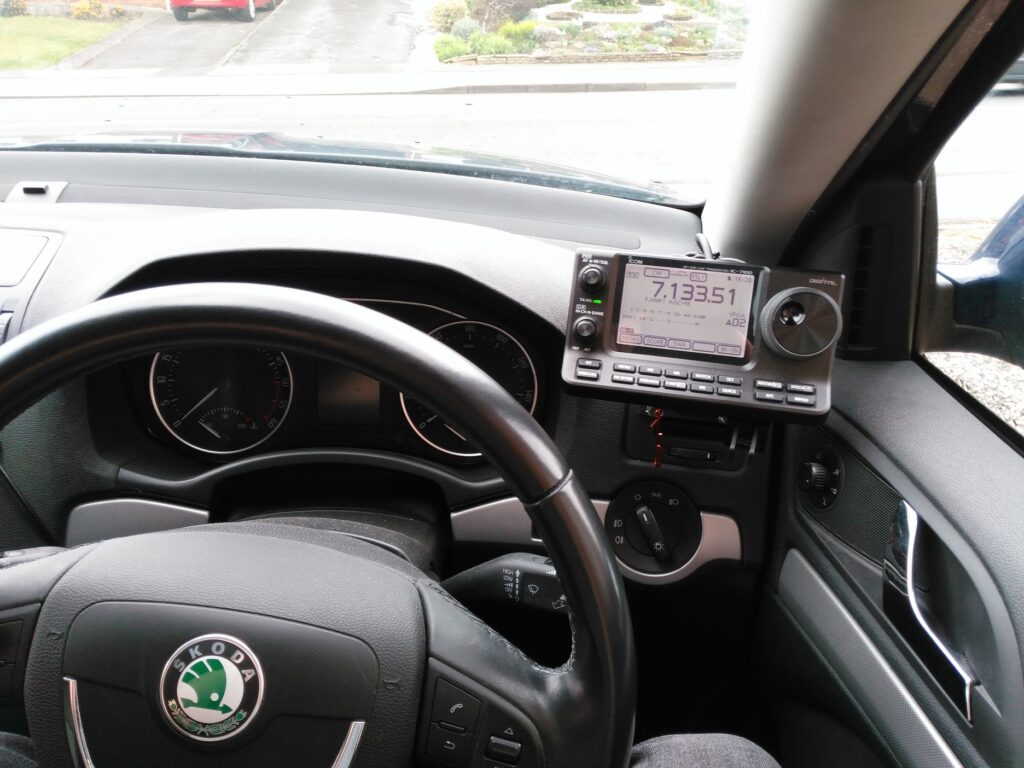 ---
M0PCB/M – 2011 to 2015
My 2nd car was Peugeot 307 Estate. There were various incarnations of installation in that car, though I can't find photos.
Kenwood TM-D710E for 2m/70cms voice and APRS on 144.800MHz
Philips FM1100 with remote head kit on the 70MHz FM band.

Both shared the same hands-free microphone though a home built switch box and a modified Philips microphone.

Icom IC-706Mk2G
Icom IC-7000
Kenwood TM-733E
G-Whip Multi-Band HF antenna
Various Panorama low profile VHF antennas
Comet CA-UHV6 etc
---
M0PCB/M – circa 2008
The first car I owned was a 1995 Renault Clio. It didn't really suit bit antennas. Initially I had a Comet CA-UHV6 antenna shared between the two radios. I also tried out a Watson Multiranger-9 which was less effective, but easier to mount, that the Comet antenna.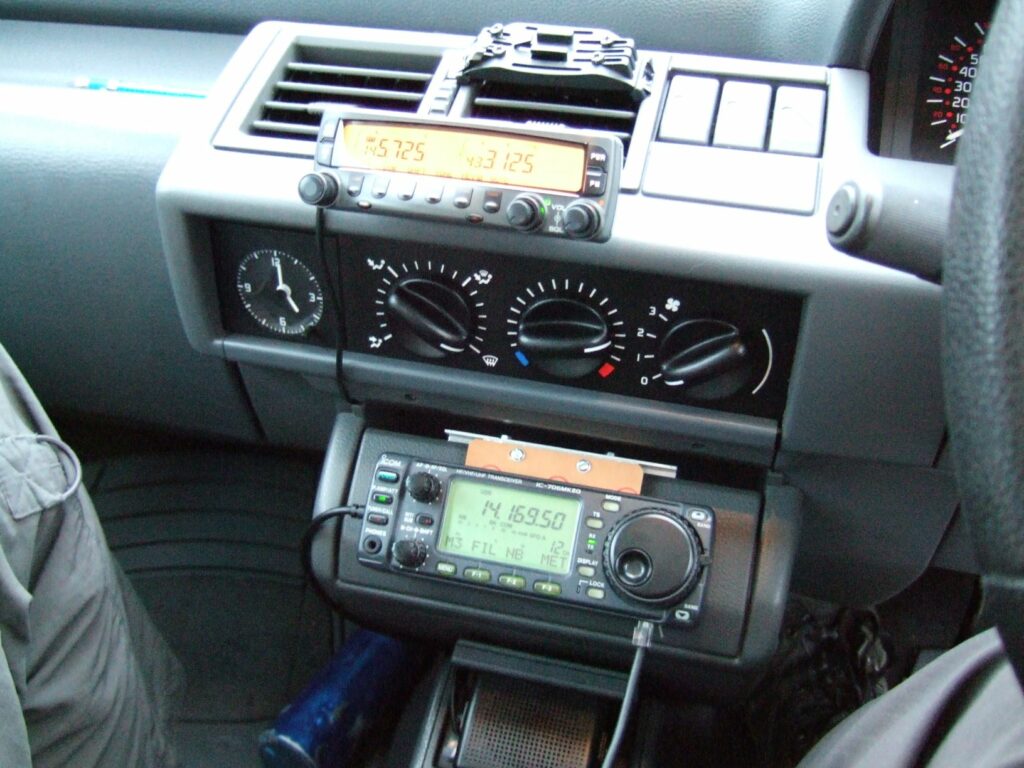 ---
M0PCB/M – 2003-2006
While at University I mounted my handheld transceiver to the handle bars and used it to monitor GB3CY while cycling around campus and to and from the city. Eventually the bike got stolen, but I didn't lose the radio.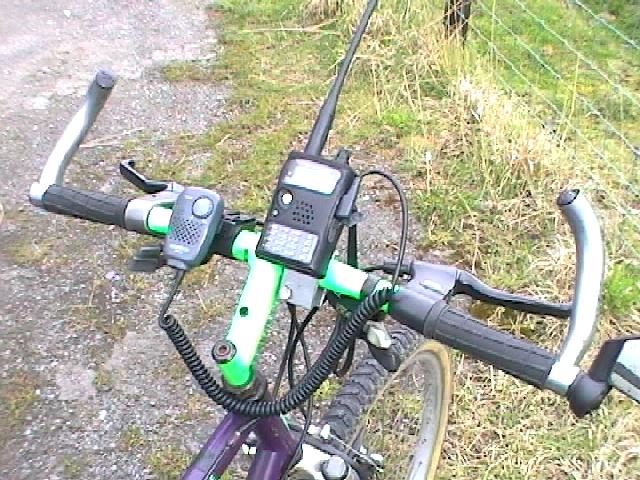 ---
M0PCB/M – Around 2002
Not long after I got my licence I was spending a lot of time out and about mobile with my Dad, who at the time was a lorry driver. I managed to get hold of an Icom IC-706Mk2G and used it quite a lot as a portable and mobile radio.
This photo was taken when I was 17, I'd passed my driving test but not left school. One day driving home from a local rally the 40m whip and mag-mount fell off while driving along the road. Oops!