As part of the FOC 80th Anniversary Challenge I was able to activate GC4FOC from various locations in Wales during the month.
My planning for the FOC80 activity was frantic at times and I was keen that every one of the seven UK&CD regions be represented during the month. For various reasons covering Wales was proving to be a challenge. Then a thought occurred to me, to quote Top Gear: How hard can it be?
I only live an hour drive from South Wales, I have a car, a radio, a mast and an aerial. Off to Google Maps to find somewhere that is both near the M4 motorway and also by the sea. Scarrog bay seemed to fit the bill. From the overhead imagery it looked like there was road access, a place to park off the road and it was right by the water. Great! So off I drive, following direction from Google. I got close, very close. Google wanted me to turn left into a road that was blocked. Then took me round a 3 mile diversion to another road that was blocked off. It dawned on me that Scarrog Bay wasn't accessible by vehicle. Somewhat of a problem given that I needed to operate from the car! Eventually I found a small lay-by just on the edge of a small village and so decided to set-up and operate for a while. Band conditions weren't great and I was limited to 20m, 30m and 40m due to the dipole I had with me. A couple of passers-by stopped to ask what I was doing, one was familiar with the hobby and said he was pleased to see someone doing it, the other was part of Farm-Watch and thought I was up to no good.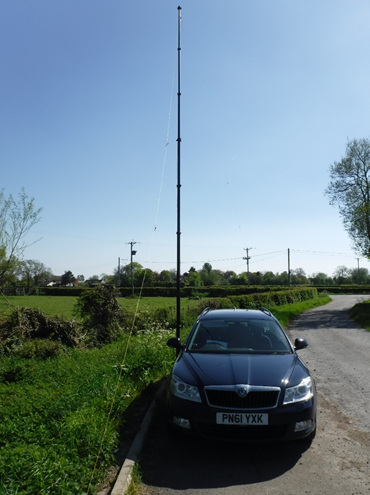 The next trip I made to South Wales was a couple of weeks later, where I had two consecutive days to operate. I decided to find somewhere else to operate from as I didn't want to draw any more attention to myself in the first village. Hunting through Google Maps then found Rogiet Country Park, which is just next to Caldicot. It looked like there was ample parking and it was far enough from the nearby village to be quiet. Rogiet turned out to be a pretty good location and conditions were far better that weekend.
The final trip saw me travelling with a friend, who wanted to visit Caldicot Castle for an event. I was able to find a corner in the overflow car park and set up the station again from the car for a few hours Again conditions were pretty good from there and I was working USA and JA stations though not in large quantities.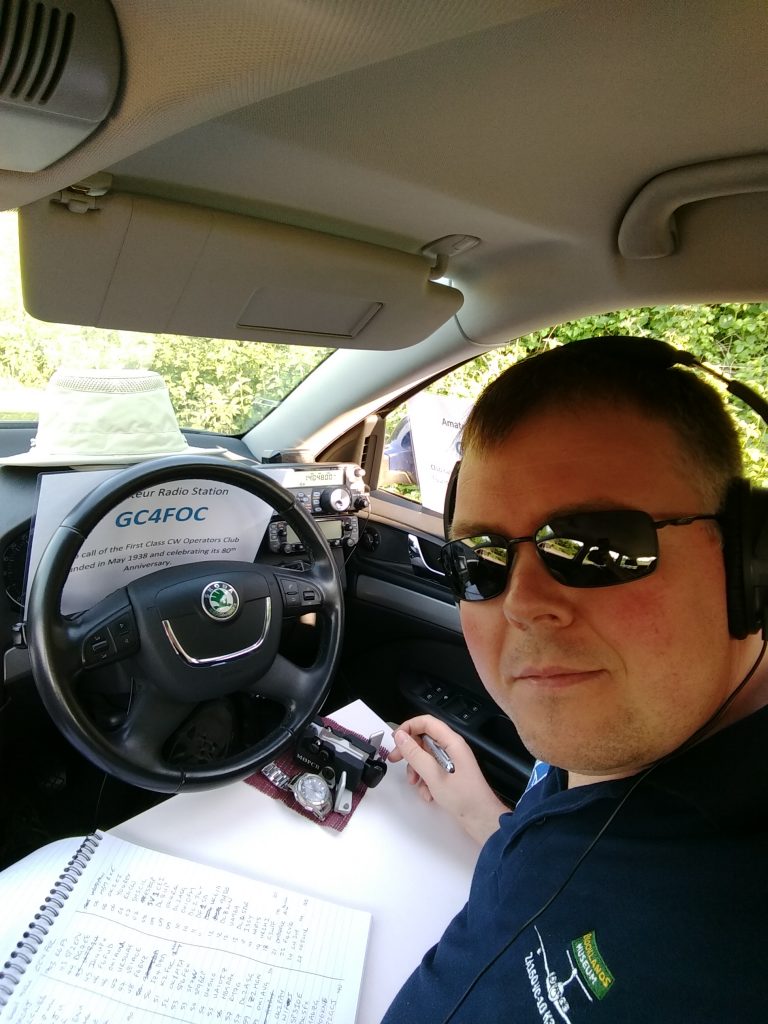 In all cases the station was a Kenwood TS-480SAT with around 90 Watts feeding a SOTABeams 40/30/20m link dipole on top of a Racal 8m push-up mast. I took my Begali Traveller key to operate with and due to the fact I wasn't able to find my car charger for the laptop I ended up paper logging the 419 QSOs. Thankfully it was pretty quick to type them up using FLE by DF3CB. The weather was great for all three trips, and it was great to meet so many members – though challenging to remember everyone's names without being prompted by the computer.