This was my first experience of Field Day in America, and it's certainly a very different event to Region 1 Field Day in the UK.
I was invited to join the team of W3AO by Dan K2YWE who was leading the 80m CW station, though I also belong to the Columbia ARA who provided a lot of support to the W3AO effort and ran the Get On The Air Station and the Satellite station for extra points towards the overall score.
W3AO are in the process of setting records in each category and in 2019 they were 14A, the only participant with 14 radios on the air across HF, VHF and all modes. That's quite a feat.
Primarily I was 80M CW, which involved some overnight operating, typically in the early hours. I also spent some time filling a gap on 15m CW.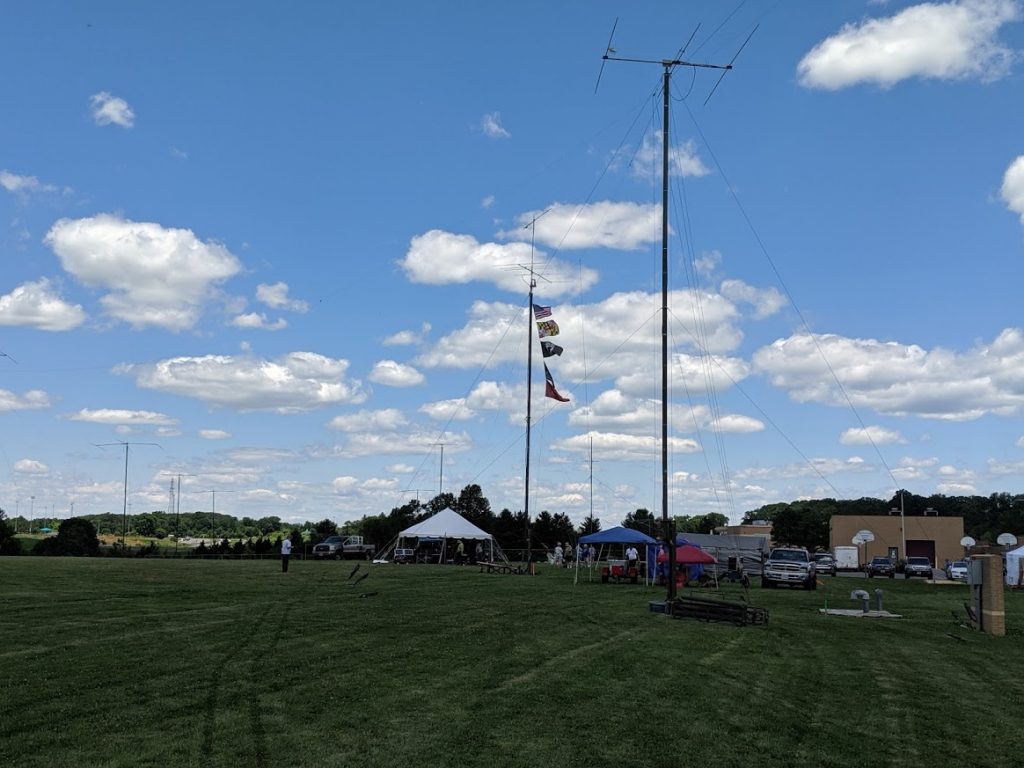 Claimed results:
CallSign Used : W3AO
Operator(s) : W3AO
Operator Category : MULTI-OP
Assisted Category : ASSISTED
Band : ALL
Power : HIGH
Mode : MIXED+DIG
Default Exchange : 14A MDC
| | | | | |
| --- | --- | --- | --- | --- |
| Band | Mode | QSOs | Pts | Pt/Q |
| 1.8 | CW | 49 | 98 | 2 |
| 1.8 | LSB | 25 | 25 | 1 |
| 3.5 | CW | 597 | 1194 | 2 |
| 3.5 | FT8 | 173 | 346 | 2 |
| 3.5 | LSB | 937 | 937 | 1 |
| 7 | CW | 1059 | 2118 | 2 |
| 7 | FT8 | 348 | 696 | 2 |
| 7 | LSB | 1622 | 1622 | 1 |
| 14 | CW | 1060 | 2120 | 2 |
| 14 | FT8 | 330 | 660 | 2 |
| 14 | PSK | 3 | 6 | 2 |
| 14 | RTTY | 1 | 2 | 2 |
| 14 | USB | 1587 | 1587 | 1 |
| 21 | CW | 422 | 844 | 2 |
| 21 | FT8 | 213 | 426 | 2 |
| 21 | USB | 679 | 679 | 1 |
| 28 | CW | 158 | 316 | 2 |
| 28 | USB | 226 | 226 | 1 |
| 50 | CW | 12 | 24 | 2 |
| 50 | FT8 | 67 | 134 | 2 |
| 50 | USB | 20 | 20 | 1 |
| 144 | FT8 | 1 | 2 | 2 |
| 144 | USB | 2 | 2 | 1 |
| Total | Both | 9591 | 14084 | 1.5 |
Call Sign Used : K3CUJ
Operator(s) : VARIOUS
Operator Category : MULTI-OP
Assisted Category : ASSISTED
Band : ALL
Power : HIGH
Mode : MIXED+DIG
Default Exchange : 14A MDC
| | | | | |
| --- | --- | --- | --- | --- |
| Band | Mode | QSOs | Pts | Pt/Q |
| 3.5 | LSB | 101 | 101 | 1 |
| 7 | LSB | 309 | 309 | 1 |
| 14 | USB | 29 | 29 | 1 |
| Total | Both | 439 | 439 | 1 |